EPS polystyrene foam exterior tool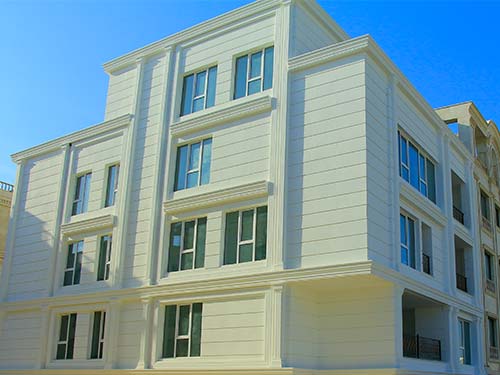 Prefab Roman facade made of EPS fireproof expanded polystyrene foam It is produced with a density of 22 and a coating of polymer concrete with a thickness of 4 mm with a variety of polymer, chemical and mineral materials, which is stable against atmospheric and climatic factors and is produced in a prefabricated form at the factory.
In general, the tools for the exterior of the building are a new and suitable alternative to stone and cement. In addition to beauty, this tool has a very high resistance against cracking. Also, due to its light weight, the possibility of damaging it in dangerous times such as an earthquake is greatly reduced.
The facade tools are polystyrene foam, thermal insulation, moisture insulation and sound insulation.
Thermal insulation, refrigeration that reduces energy waste by 60%.
Waterproof insulation that can be used in wet and humid areas
Sound insulation suitable for acousticizing all spaces
Crack resistant: The high elasticity of the product and the compounds used prevent cracking.
Styling: The extremely light weight of this product prevents any damage due to natural (earthquake) and unnatural events.
The ability to color and create a geometric shape in the facade of the building
Resistant to UV rays, acid rain and freezing
Quick installation: Reduction of time in the construction of all projects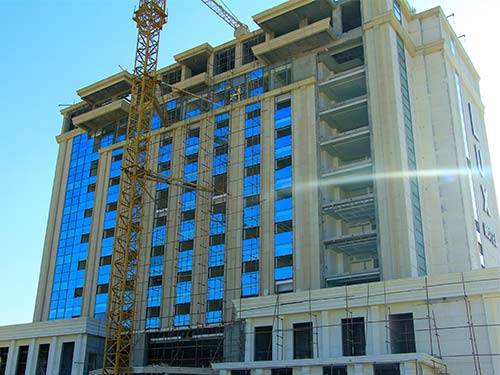 Super light appearance
The facade of buildings has been of special importance since ancient times until today.
The identity and beauty of a building is expressed by its facade. At first glance, it is the facade of a building that attracts us and you.
This issue has caused many decorative facade tools to be invented in recent years to make buildings and houses more beautiful.
One of the disadvantages of facades of buildings in the past, such as brick facades and stone facades, was their heavy weight, and that is why heavy facades are not used in very large and tall buildings.
One of the disadvantages of stone and brick facades is that they get dirty in a short period of time and they cannot be cleaned easily.
The tools of ultra-light facades have excellent facades with very high resistance compared to other facades, for example:
Being waterproof
Very light weight (ultra-light appearance)
being safe
Very easy to wash
Not getting dirty for a long time
Heat and cold insulation
Relatively cheap price compared to stone and brick facades
Classical or Roman facade
One of the types of building facade design is classical facade or Roman facade. The classic or Roman view is taken from the architectural elements of the classical period of Rome and ancient Greece. These views are called Roman views.
What are the features of the Roman facade?
It has more details than other views.
The arches are round and wide.
Elements and sculptures are used in this view.
Due to having more details, it imposes a higher cost on the employer
Columns are executed in Roman, Doric, Corinthian and Ionic styles.
Columns are executed in Roman, Doric, Corinthian and Ionic styles.
In modern facade architecture, public facades have moved towards simplicity and have many fans.
To design a modern facade, you must maintain the integrity of the volumes and avoid using too many details.
To design a modern facade, try to make the windows as big as possible.
Because large and elongated windows are considered a characteristic of modern architecture.
A modern facade is usually made by combining two or more cubes.
What are the advantages and disadvantages of style view?
The advantages of the light facade are actually its very easy installation and the amount of light that enters the building.
In addition to the advantages of a light appearance, it also has disadvantages that are not visible.
Designing a light facade of a building is less expensive than other facades.
In addition to the lower cost, the light facade performs much better in terms of thermal insulation and sound insulation than other facades.
These types of facades can be used in all types of buildings and in all types of tastes.
prefabricated facade
The facade of the building is one of the facades that are very popular today. Prefab facades are usually used in residential buildings. This facade is very popular in Iran, and it is usually made of polystyrene, and next to Roman facades, stone and cement facades are offered.
Its features are many. This facade has an expansion feature. It is made of polymer concrete coating. Its thickness is usually 4 to 5 mm.
Its many types have made it possible for people with any taste to prepare it. This facade increases the quality of the building visually.
Advantages of prefabricated facade It can be mentioned its low cost, high installation speed, lightness of the facade without the need for rabbets, high variety of thermal insulation, paintability, easy and clean execution, precision in the size of parts, low price of columns and capitals, the ability to use hidden light and suitable sound insulation.
Among the disadvantages of prefabricated facades, the sentence is completely wrong and the reason is that what kind of prefabricated facades are the disadvantages of facades such as composite facades. Yes, in case of fire, it catches fire and spreads the fire, but light facades are slow-burning and suffer the least damage during fire.
Today, prefabricated building facades have replaced cement and plaster facades with the increase of cement and the use of cement, stone and plaster facades has decreased because prefabricated stone and cement facades are easily installed, usually prefabricated facades are used.
The best prefabricated facade that is used is the Roman and classical facade Roman view It can create different designs. This facade shows the style of ancient Greece, which, of course, when the Romans entered Iran, it was combined with the Iranian facade and created an eye beauty.
Usually, prefabricated facades are very strong against different weather conditions and do not change shape.
Bahina Nama, a manufacturer of all kinds of prefabricated and prefabricated Roman facades in Iran with the highest possible standard, for more information, contact our experts through the contact page.
What is a prefab style view?
Light prefabricated facade is a type of facade system made of panels made of light materials such as Unolite, polystyrene or polyethylene foam. This type of display system, due to the light weight of the panels, makes it easy to install and transport them.
In this type of display system, light panels are manufactured in the factory and then transported to the installation site. Installation of panels is done in a simple and fast way and reduces installation time and costs. Also, the use of light panels, due to the reduction of the weight of the building, can help to reduce the installation and construction costs.
In addition to light weight, the light prefabricated facade has features such as water resistance, heat and sound insulation, earthquake resistance and high stability. Also, considering that this type of facade system consists of prefabricated panels, it is possible to give your building an attractive and beautiful shape with a variety of designs and combinations of different colors.
Due to the superior features of the light prefabricated facade, this type of facade system is used in residential, commercial, office and industrial buildings.
The Roman Facade Prefab tool is a tool used to build facades based on the Roman architectural style. These tools consist of molds made of metal or hard plastic that include various forms of Roman motifs, including Corinthian, Doric, and Ionic.
Using this tool, it is possible to make prefabricated Roman facade panels with precise and defined shapes. These panels are made in 3D and can be produced in a shape that perfectly matches the needs of the building using the prefab Roman Facade tool.
Using this tool also reduces the time and cost of installing the Roman facade. For example, if the traditional method of building a Roman facade is used, various parts, including columns, channels and ballasts, must be made on site. But with the use of prefabricated Roman facade tools, these parts are made in the factory and then transported to the installation site. This method reduces the time and cost of installation as well as increases the accuracy and quality of installation.
In summary, the precast Roman facade tool is a tool that can be used to make prefab Roman facade panels with a precise and specific shape and reduce installation time and cost.
view tool
Maybe you also remember the tools used in building construction when you hear the word tool. Display tools have different meanings.
Facade tools are usually used in exterior and interior facades of short and tall buildings and are made in different materials.
In the old days, facade tools were usually limited and only cement tools were used. Today, with the advancement of science and technology and the use of different devices and tools, various facades are made.
One of the tools of facades are polystyrene tools, which have many benefits and advantages, and a person takes less effort when using them.
Facade tools are usually used in buildings whose facades are Roman prefabricated.
Today, different methods are used to decorate facades. Today, different methods are used to decorate facades.
Among the features of stone, it is possible to use it to the maximum. Today, bright colors are used. This product is used in places such as columns, arches, edges of walls, and corners of ceilings.
Performance of the foam facade
The foam facade is one of the polymer facades, the thickness of which is 4 mm, and it is made of mineral and chemical materials. In general, this product has become a new alternative to cement, which has a lot of beauty and is much more resistant to cracking.
Also, this product is very resistant in dangerous situations such as volcano floods and earthquakes. Its thermal and sound insulation is polyester, which is made in different models. Prevents energy waste up to 70%. It can be used in humid and humid areas.
It can be used for all indoor and outdoor spaces. It is very resistant to cracking and has a light weight and prevents any damage. It has a great ability to be dyed and is resistant to UV rays, acid rain, freezing and direct sunlight. It is very easy to install and test. This product has been used and welcomed by many people since ancient times.
Feature of foam facade
The unique features of this product have led many people to use it. It is waterproof. It has very little weight and is low risk. It is very easy to wash. It does not get contaminated in the long term. It is cold and heat insulated.
Buy and sell foam facade
Today, buying and selling it has become very easy. It has much more detail than other symbols. Various parts have been used in its construction, which can be easily used by people who are looking for modern style facades.
These views have different sizes, you can use these views wherever you are. Buying and selling it is not difficult as in the past and is done in the shortest time. You can get these facades from reputable centers. When preparing facades, pay attention to the materials used in these foams.
Yunolit view
Unolith prefabricated facade (Unolith facade is a new prefabricated facade) consists of two main parts: Unilith panels and the support to which these panels are attached. Due to having a foam core with closed cells, Unilith panels have features such as lightness, thermal insulation, sound insulation and fire resistance. Also, Unilith panels are made from materials such as polystyrene, polyurethane and polyethylene, which makes these panels light and portable.
After the unolitic panels are produced in the factory, these panels are attached to the desired support. The supports used can be made of different materials such as metal, wood and cement. After connecting the Unoliti panels to the support, the Unoliti prefabricated facade is ready to be installed and replaced in the building.
Due to features such as simplicity and speed of installation, stability and high resistance, as well as the ability to recycle and reduce energy consumption compared to traditional facades, the Unoliti prefabricated facade has found its place in the construction industry. Unoliti prefabricated facade has the ability to perform various projects and can be used in residential, commercial, office and industrial buildings.
View of a classic prefabricated villa
The view of the prefabricated classic villa is an architectural design based on the style of classic villas. These types of facades usually include traditional and beautiful details that give it an elegant and majestic look.
These types of facades usually include traditional and beautiful details that give it an elegant and majestic look. The use of soft colors and traditional components such as tractors, pillars and metal fences are also part of these views.
The facade of the prefabricated classic villa tries to convey the beauty and splendor found in the traditional classic villas to the prefabricated facades. These facades are usually made using high-quality materials and modern technologies to have both a beautiful appearance and quality.
If you intend to build a classic prefabricated villa, you can get help from companies and builders specializing in this field. They can work with you to choose the right design and facade for your villa and take charge of its implementation.